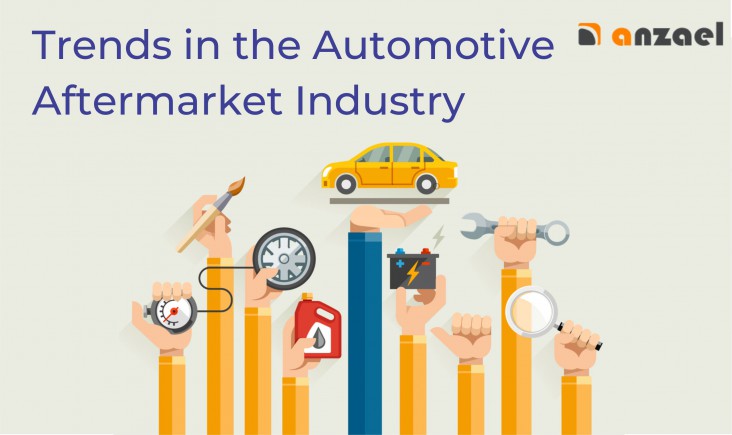 The automotive aftermarket basically deals with manufacturing, remanufacturing, distribution, retailing, and installation of all vehicle parts after the sale of automobiles to the customers. The automotive industry is one of the leading sectors worldwide that play a crucial role in bringing back economic growth. The size of the automotive market in the United States is estimated to be $318.2 billion, contributing 2.3% to the GDP. Hence, we can come to know that the demand for the automotive industry is increasing at a higher pace.
Car manufacturers, auto parts manufacturers, OEM manufacturers have a tremendous amount of scope in using digital platforms. They play a twin part in enhancing automobile utility and customer satisfaction. Now, let's take a look at the top automotive industry trends and technologies.
HERE ARE SOME UPCOMING TRENDS IN THE AUTO MARKET INDUSTRY:
Top Automotive Industry Trends and Technologies

1) Artificial Intelligence – Artificial Intelligence technologies such as deep learning, machine learning, and computer vision find applications in robotic automation within the automotive industry. These provide guidance to self-driving cars, manage fleets, and assist drivers to improve safety. Another example of AI in the automotive industry is chatbots. They are of great help in reducing manpower and effectively satisfying and serving customer queries. Human-Machine-Interface uses voice-based feedback to operate and manage vehicles.
2) Big Data and Data Analytics – With the use of technologies like big data and Data Analytics, it has become easier to gather specific vehicle details, alert the authorities in cases of emergencies or accidents. Apex AI is a US-based company that authorizes automotive companies to incorporate complicated AI solutions.
3) Connectivity, Shared Mobility, and feature Upgrades – These new feature upgrades are expanding the automotive revenue pool by 25%. These will give a rise to aftermarket products and services as much as 50%. Launch Mobility, a US-based startup develops a platform for a range of shared mobility solutions like free-floating, advanced shuttle services & shared dockless scooters.
4) Emerging Markets – Developments in emerging markets are tremendously rising and bringing economic changes. The higher utilization of vehicles will create more wear and tear and a greater need for the services of a well-maintained automotive aftermarket industry.
The time ahead is very bright for the automotive industry. People all over the world are driving new and used automobiles which will have a need to be upgraded, serviced, and maintained. Anzael LLC is a US-based company providing data management solutions for the automotive aftermarket industry. It has an accurate process model and a goal-driven approach. If you have requirements for your auto parts fitment, we are here to help you.