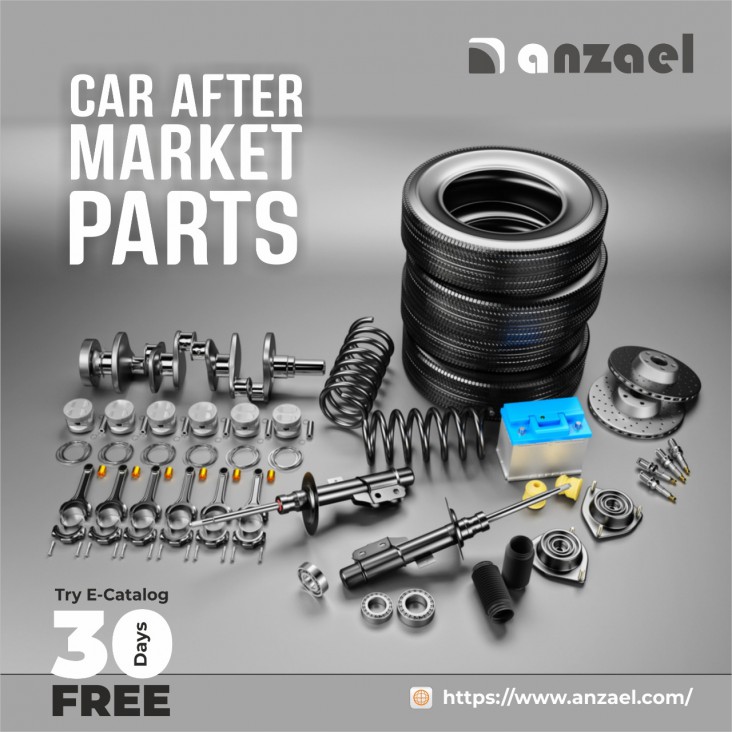 What is aftermarket? This must be hovering in your mind. Well, to make you understand in a simple manner it could be defined as a spare part of vehicles that are not made by the original equipment manufacturer. In car aftermarket parts, the damaged parts are replaced in automobiles and other equipment. This can be compared to generic pharmaceuticals in that they are low costlier than brand-name medication, but they have similar effectiveness. In similar manner aftermarket works. The part which is replaced is cheaper as compared to the original manufacturer but they have the same usage and effectiveness.
The automotive aftermarket can be said as the secondary market of the automotive industry, regarding the manufacturing, replacement, distribution, retailing, and installation of all various vehicle parts, chemicals, tools, equipment, and accessories for light and heavy vehicles. The aftermarket helps in keeping motors on the road by providing consumers the willingness of where they want their vehicles serviced, maintained, or customized. The aftermarket includes parts for replacement, appearance, and performance, including electric propulsion. The aftermarket helps in providing a broad variety of parts of differentiating qualities and prices for nearly all vehicle makes and models on the road. Consumers have the option of either they can repair their vehicle themselves or can take the vehicle to an expert repair facility.
Working procedure of Aftermarket car parts
When you go to repair your damaged vehicle then the charge could be expensive and the merchant might request aftermarket parts to be utilized whenever possible as they are less costly as compared to parts made by an original equipment manufacturer.
KEY POINTS NEED TO BE NOTICED
* Aftermarket parts are also termed as non-Original Equipment Manufacturer parts, generic parts, or competitive replacement parts.
* Sometimes consumers get worried about the safety and quality of aftermarket parts but these kinds of worries are not founded, as per the auto experts.
* Making use of aftermarket parts can be more cost-effective as compared to using OEM parts.
* In case you are caught in a car accident, then an insurance company may advise you that the auto mechanic use aftermarket parts instead of OEM parts to repair the vehicle.
Well, these are the task of car aftermarket retailers. They are specialized in their field. And all these are offline tasks but the question of worry is that who will manage the online data. Because nowadays everything has come on an online platform. Every retailer needs to be good at managing data also. In this case, you might need an agency or company to handle your data. In the present market you have plenty of options but finding the best one among available agencies is a challenging task. To lessen your worry the most recommended company would be Anzael LLC.
Anzael is a software company situated in the US specializing in data management solutions for the industry of automotive aftermarket. The company serves the Automotive aftermarket located in North American and provides fully managed e-commerce solutions, e-catalog i.e., car part catalog solutions, and data validation services. The company provides cloud-based software as the services offered by the company are there to improve the aftermarket automobile company sales, improve their accuracy, reduce time to market and convert the data in rest to data in use.
The company believes that the best solutions can only be provided through real-life industry experience that is why the programmers of the company have teamed up with skilled professionals from the automotive aftermarket industry to create the ultimate in data management solutions and deliver a successful solution.
Anzael LLC has been in the business of customizing data management solutions via open-source development for many years. The planned strategy and goal-driven approach allow the company to deliver rich qualitative, timely, and cost-effective solutions tailored to retailers' projects.
Our stringent quality control standards assist merchants to hone their edge over the competition, while the strength, dedication, and hard work of the team ensure that you get complete satisfaction. The company loves what they do, and they have a customer-oriented approach that differentiates them from other data management companies you may have worked with in the past.
Here you are getting solutions to every problem then what is the need for looking another option. Choose your mentor wisely and make your business successful.