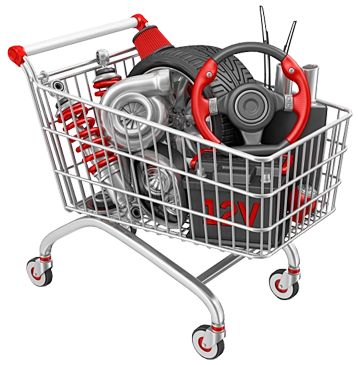 Shopping for car parts at retail stores might be a bit more challenging. But, if you can't extend the budget and are looking for offers and deals, then online stores could be the best option. So, here's are some of the advantages of visiting an E-Commerce website.
It's certainly convenient to shop for auto parts online. You no longer need to wait and drive to the store and make your way through the bustling street. Once you sit in front of your computer or laptop, you would be able to visit the online marketplace.
Once you stop by an online portal, you can make the best selection by going through numerous options. You may come across components that are affordable and are supreme with respect to its quality. In fact, you get a variety as compared to local outlets at the market near to your residence.
At a retail store, some sales representative would just be persuading you to buy the auto part. This might disturb you whenever you don't have time and you would like to rush. But, this isn't the case with an auto parts E-Commerce website. While you are shopping online, you can avail items at an unbeatable price. Besides, you would be happy with the purchase if the online store is offering an amazing discount or offer.
A supplier is never trustworthy just because of the good in presenting the component. You would obviously buy from the store only when you have crossed checked the background of the supplier. On the other hand, a website would help you finalize the choice by going through the ratings and reviews. In case you find that the quality is poor, then you can always reconsider something else within the price range. To know more about the part, you can also go through the salient features or the product description.
Online shopping offers you secure payment and a fast delivery option. For instance, if you need to buy a set of tires, then you don't have worry when you would be receive them through the delivery boy. Moving ahead, you can check everything through a tracking ID and estimate the time when the item would be delivered.
The online marketplace is always available 24 x 7. This implies that you would be able to shop from any location and at any point in time. You simply need your computer and an internet connection. If you are among those who prefer to do shopping after returning from office, then online portals are just for you.
As you move on with online shopping, you should be able to differentiate between OEM and aftermarket parts. While the former come with a warranty and boast supreme quality, the latter is inexpensive but you can't be confident of the quality. Moreover, it's better to source a car part which has been manufactured by a reputed company. After all, you should understand that you would be spending some more time rather than heading to the local stores.