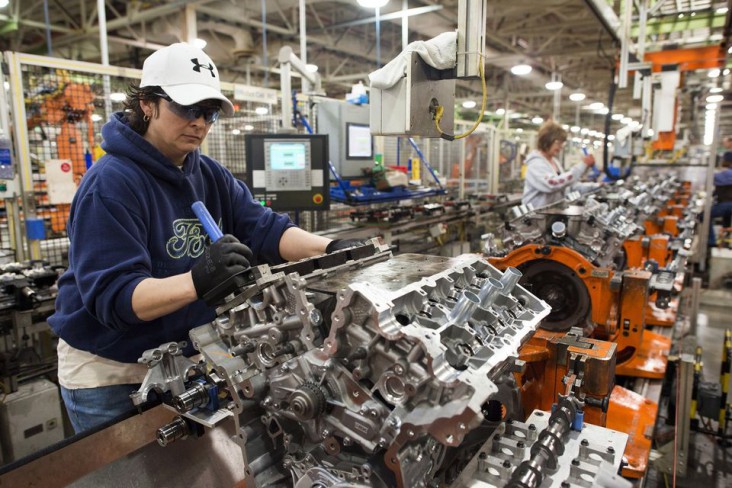 U.S. auto makers, responding to weaker demand for sedans and other passenger cars amid low gasoline prices, are rebalancing production at U.S. factories in favor of building more sport-utility vehicles and trucks.
General Motors Co. on Tuesday said it plans to add 650 hourly workers in Tennessee at a plant making the GMC Acadia and the Cadillac XT5, two midsize SUVs. Idled for three years after the auto maker's 2009 bankruptcy, the Spring Hill, Tenn., factory is playing an increasingly important role in GM's U.S. operations. The job additions come a day after Ford Motor Co. idled a Mustang factory outside Detroit for a week to prevent inventories stacking up on dealer lots. Mustang sales fell 32% in September, helping drag Ford's overall U.S. volumes down for the month.
Auto-parts supplier Faurecia SA also said on Tuesday that it will permanently close two suburban Detroit plants that make seats and other components for the Chrysler 200 sedan, which Fiat Chrysler Automobiles NV recently decided to phase out because of poor sales.
"When they end production, we end production," a Faurecia spokesman said.The French company will dismiss 348 people at those factories and two others that make car parts.
The moves come as sales of light trucks, including SUVs and pickups, now represent about 60% of total vehicle sales in the U.S. market. Motivated by continuing low gasoline prices, buyers are opting for heavier vehicles that offer more functionality and typically deliver richer margins for auto makers.
U.S. auto sales inched up 0.5% during the first three quarters, and analysts are questioning whether 2016's total will surpass last year's record sales of 17.5 million light vehicles. Passenger cars are taking the hit, down 8.2% compared with the first nine months of 2015, says Autodata Corp. SUVs, meanwhile, rose 7.1%, pickups were up 5.8% and vans increased 17%.