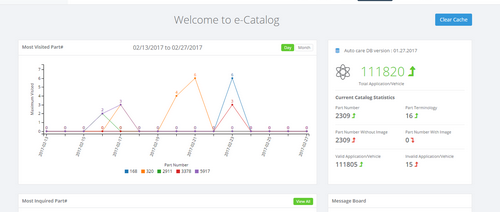 The aftermarket industry is the service sector economy which is very complex to predict as it exhibits high degree of uncertainty. There are billions of spare, replacement & performance parts linked with the industry. In definition aftermarket brings in scope of activities after the new automobile has been sold initially. Along with original equipment manufacturer (OEM) there are several other manufacturers that cater to the demand. The difference being in quality and price also struggles for right fitment of part into the vehicle. Running a regression manually would be an impossible task so to ease the method databases has been introduced in normal forms to interact with the client. The data in normal form allows user to query database and find the right fit for their automobile. To further ease the interaction the database is presented and partly automated into e catalog formats supported by various systems and devices. The catalog forms the simplified frontend for users to browse through the availability and make informed decisions.
The aftermarket parts catalog again is to an extent standardized but still provides load of room to incorporate unique selling propositions. The catalog provides information like unique part numbers, all round images, user manuals & instructions as how to fix for do-it-yourself users and other technical specifications. A catalog in definition serves the purpose of guiding a sale; it is like a pre-sales information brochure or document that enables user to compare the product and its feature. There are several players emerging to compete for delivering catalog services to the market. Initially handled in house by manufacturer, wholesalers, distributors and retailers these catalog services are being offered as fully managed services. The client is also getting exposure to user defined software as service solutions to manage catalog activities.
The aftermarket industry is such a niche industry with so many options and variables that the user has the tendency to lose its way. Not all options are listed in catalog format so many of them go undetected. With increase in online transaction and use it has become inevitable for the product to be available online. The rise in e commerce is driving the market with most of the products going online to increase their visibility and presence; the consumer is looking for convenient solutions to address their needs. Today internet is equipped with load of information and the user is constantly browsing online to process more and more information to make meaningful use and to make informed decisions. With increase in number of aftermarket products each year and high inventory listed on the shelves point out scope for catalog services. With more and more users querying e commerce database for aftermarket parts; the suppliers are tying up with e commerce portals like amazon to find a solution with them; recognizing that the user is more likely to browse amazon website then their own custom made e catalog solutions.
The aftermarket parts catalog services has a long way to go as service life & utility of the average vehicle increases and with upcoming technologies like electric vehicles, autonomous vehicles and zero emission technologies become the front runner.